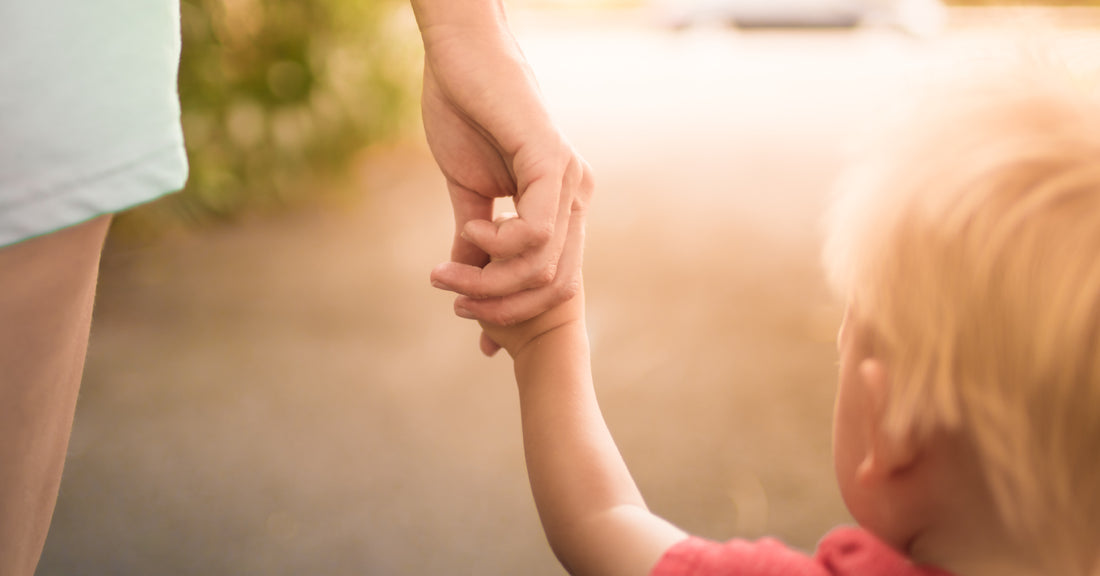 Moms Weigh in on new Children's Eczema Treatment
Living with Eczema: Two Moms Share Their Quests for Relief for Their Children
As a Mom, you know it can be heartbreaking watching your child deal with the itch, pain and irritation of eczema. You've probably tried countless eczema treatments for kids, hoping one will make a meaningful change, but you're still looking. Megan, mom to two-year-old Maverick and Liz, mom to five-year-old Addison, have been helping their little ones navigate the world of eczema since birth. The difference is, they've found something that really works. 
Meet Maverick and Addison, Children with Eczema
Before trying this new product, Maverick was in a state of mild yet constant flare-up behind his knees, that worsened and spread to the back of his legs in the warmer weather. Since Maverick and Megan live in Texas, this was almost year-round. Little Maverick also had severe flare-ups with cracking and bleeding on top of his feet and near his mouth.
Addison has more mild eczema. Her flare-ups are usually on her hands, wrists and behind her knees. Her Mom, Liz, notices it mostly in the dry, cold weather and after swimming lessons. 
Mom Guilt Around Eczema 
As a Mom, the buck usually stops with you when it comes to your children's health. Often, we think we're making the right choice, when sometimes it turns out to be the wrong one, leaving us riddled with guilt.

Managing eczema as a Mom is no different. So many Moms describe guilt around hydrocortisone use, frustration over ineffective creams, and even guilt around unforeseen circumstances that have caused your little one's eczema to flare up.
This is the case for Megan. As a busy Mom, she makes time to take Maverick on exciting outings, like the zoo. After hours giggling at the penguins and pointing at cheeky monkeys, Maverick started complaining of itchy legs and feet. By the time they got home, the tops of his feet and and backs of his legs were bright red, leaving Megan riddled with guilt.

"If he's playing outside at home in the hot Texan weather, he will often start complaining after a few hours that his legs are sore," says Megan. "So we cut outdoor time short and I give him a bath and apply his cream. But if we're out and about, he often gets distracted and we don't realize how bad his eczema has gotten until hours have passed and his skin is incredibly irritated and red. It gives me a ton of Mom guilt."
Mom guilt often forces parents to look for a solution on the spot, but choosing the right eczema cream, especially quickly while your child is upset, isn't easy.
Finding Effective Children's Eczema Treatments Is Hard
From misleading advertising slogans to fear over the safety of products, it's not easy to pick a product off a shelf and put it on your child's skin. As a Mom, product safety is always at the forefront of your mind, especially if your child's eczema is on their face. Here are a few things to help:
Ignore empty claims like 'hypoallergenic'

All Moms want the best for their children, but with empty marketing claims like 'gentle,' '100% pure' and 'hypoallergenic,' on many products, it can be hard to know what's real and what's just a moisturizer with a fancy name. Words like 'hypoallergenic' are meaningless as they don't require any stamp or authentication.


Look for the 'Pediatrician Approved' stamp

Thankfully, there is one stamp that requires a significant authentication process: 'Pediatrician approved.' This stamp is hard to find on children's eczema products, but it makes all the difference to Moms. Both Megan and Liz said using a product with the pediatrician stamp of approval puts their minds at ease, and helps them feel they're giving their children the best eczema management solution available.

Trust Your Gut

If you have been told to constantly apply hydrocortisone to your young child, and it doesn't sit right with you, trust your instincts. Megan had been told to use 2.5% hydrocortisone on Maverick's eczema, but she felt it wasn't the right thing for her family.
"I tried sensitive skin moisturizer, OTC hydrocortisone, prescription strength (2.5%) hydrocortisone & prescription steroid cream specifically designed for eczema," said Megan.

"The prescription steroid was always the most effective, but I didn't feel comfortable using steroids on my young son routinely. When outbreaks got bad, I used to mix the moisturizer with prescription hydrocortisone. Even then, I didn't feel comfortable using hydrocortisone regularly near his mouth."
Thanks to biotechnology there are now medical-grade eczema treatments for children that don't contain steroids, but are incredibly effective. A perfect example is ARCTIVA Eczema Cream.
Moms Megan and Liz have tried countless moisturizers, so when the chance came to try ARCTIVA, they were thrilled. Not only does the ARCTIVA Eczema Cream have the 'pediatrician approved' stamp, it's also a non-steroid based eczema cream. 
ARCTIVA Eczema Cream feels smooth as a rock
Unlike gluggy moisturizers, ARCTIVA is light yet rich, meaning it's absorbed quickly. Megan said it's not greasy like hydrocortisone, so it feels much nicer going onto her son's skin. Liz agrees.
"The second I put it on Addison's skin she said "oooooohhh!" with a ton of excitement!" said Liz. "I asked her what it felt like and she said 'a smooth rock'." She would often sigh in relief as well."
ARCTIVA Eczema Cream means no more stinging skin
As a Mom, you know that feeling of horror when you put something on your child's skin and they start screaming and crying. Even if they can't tell you it's burning and stinging, you know that's how they feel. This was the battle Megan was constantly enduring as she tried to help Maverick with his eczema.
"Prior to ARCTIVA, all the products I tried on his feet & face would result in screaming & crying. I assume they burned, so I would have to immediately wipe them off. With ARCTIVA, Maverick had no response and no pain. It was such a relief to know it wasn't hurting him."
Results with ARCTIVA Eczema Cream happen quickly unlike other products
When your doctor tells you to re-apply your child's eczema cream, such as fatty cream, every 4 hours, you can feel hopeless. With your days already jam-packed full of your family's busy life, this arduous task can seem impossible. This is why ARCTIVA Eczema Cream is so great for parents.
Unlike many other creams, ARCTIVA Eczema Cream only needs to be applied morning and night to see results. Even during bad flare-ups, results happen quickly.

"For Maverick's face, I only needed to apply ARCTIVA for 2 days. His feet began to clear up initially, but we unfortunately had other issues going on that required different medication and time to heal.
Once healed, we continued to apply ARCTIVA randomly to his feet and they have not had another outbreak. It has been several months since his last outbreak when prior to ARCTIVA, he was in an almost constant state of outbreak," said Megan.
Liz had a similar experience with her daughter Addison.
"She found relief and stopped itching almost immediately, and within 2 weeks it was all cleared up. We still use it daily but now only after bath time. She begs me to put it on!

If I forget she brings me the bottle to remind me. I think that speaks volumes because she could be playing or running around but she knows it makes her feel good so she doesn't want me to forget it!"
Moms' Best Advice for Other Moms of Children with Eczema
When your little one has a health issue, it can feel like you're isolated and alone, trying to manage it by yourself. Liz and Megan have both tried so many different ways to manage Addison and Maverick's eczema, they wanted to share the insights they wish they had known from day one:
"Young children cannot communicate or express discomfort, but that doesn't mean that they don't feel it. The best way to manage the discomfort that accompanies eczema is to prevent it. 
Find a product you trust and apply it regularly, even when you think you don't need to. Some outbreaks are just inevitable, but with routine application, you can reduce the frequency of severe outbreaks." - Megan
"I didn't know eczema could look mild but still be so irritating and painful. I feel like other parents need to know that it takes consistency to see the results." - Liz
If you're sick of battling through the process of trial and error with kids' eczema creams, why not stop the struggle. Try a product that's already beloved by Moms around the country, and has the 'pediatrician approved' stamp to give you real piece of mind. Not only does ARCTIVA Eczema Cream feel great on your little one's skin, it creates real, lasting results in the most sensitive areas to help your child get relief from eczema symptoms. 

---