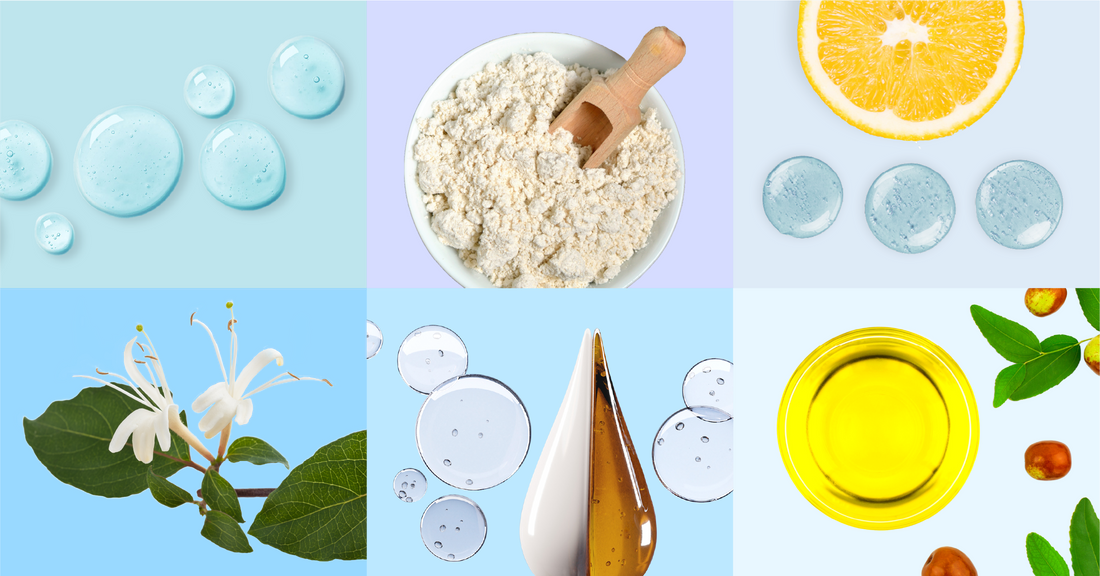 6 Non-Steroid Ingredients You Need To Help Your Eczema
AVOID FOMO BY CHOOSING THE BEST SCIENCE-BACKED SKINCARE INGREDIENTS FOR ECZEMA OR ATOPIC DERMATITIS
Are you tired of trying eczema treatments that don't work? Are you looking for steroid-free, clean-label solutions that won't harm your health, but are still effective? You're not alone. Thanks to highly skilled skin scientists, medical-grade ingredients have been discovered that are creating life-changing results for people with eczema or atopic dermatitis.
So, if you've been told a prescription steroid cream is the only solution for your skin, think again. Here's everything you need to know about six non-steroid ingredients in highly effective eczema creams.
SIX MUST-HAVE INGREDIENTS IN EFFECTIVE NATURAL ECZEMA CREAM
1.   GLYCOLIPID TECHNOLOGY, SUCH AS

HYDROSURF™

, TO ENHANCE THE PERFORMANCE OF ECZEMA CREAM
If you're struggling with eczema, you know extreme dryness is one of the main things that makes a flare-up uncomfortable. This is where glycolipid technology comes in–specifically HYDROSURF™. Boosting moisture retention, and helping water move within your skin, glycolipids are a must-have in your skincare.
Many ingredients in eczema products sit on the surface of the skin and mask conditions. Glycolipid technology like HYDROSURF™ enhances absorption to deliver fast relief to the source of eczema irritation. Plus, the glycolipids in HYDROSURF have a smaller micelle size which helps them reach deeper into pores. This means they can work their magic below the surface of your skin rather than just sitting on the surface. Plus, glycolipids are a class of naturally fermented biosurfactants with lower toxicity, reducing the risk of skin irritation compared to chemical alternatives.
How Glycolipid Technology Like 

HYDROSURF™

 Works:
HYDROSURF™ is a unique blend of fermented ingredients produced by naturally occurring microorganisms discovered in nature, including the glacial lakes of Antarctica. This glycolipid technology amplifies eczema product performance and results by: ]
Boosting absorption
Reducing inflammatory response
Enhancing hydration
Stimulating exfoliation
All these things sound good right? The challenge is finding eczema products with glycolipid technology. ARCTIVA is the only brand that offers HYDROSURF™ patented glycolipid technology, created specifically for eczema sufferers. 
Key Takeaway: Glycolipids are excellent moisturizers, boosting absorption and hydration while reducing the inflammation you experience with eczema.
2. COLLOIDAL OATMEAL FOR PROFESSIONAL-GRADE ECZEMA AND ATOPIC DERMATITIS RELIEF
Colloidal oatmeal is one of the most potent ingredients that help relieve the itching, dryness and skin roughness associated with eczema. It's so powerful that it's FDA-approved and the National Eczema Association accepts it as an eczema-specific treatment ingredient. Colloidal oatmeal is fragrance-free and fast absorbing, making it the perfect ingredient for both children and adults with itchy, irritated skin conditions like eczema.
Now you know the science, here's what else you need to know: how it feels on your skin. Colloidal oatmeal feels baby-soft on your skin and leaves a silky protective layer after application. Since one of the critical issues with eczema is that the skin barrier is weakened, leaving an extra layer of protection on your skin makes colloidal oatmeal your skincare's personal bodyguard against eczema or atopic dermatitis-related dryness.
Key Takeaway: Colloidal oatmeal helps restore your skin's natural barrier that is weakened with eczema, while also reducing inflammation.
3. GLYCOLIC ACID, THE BEST AHA TO HELP MANAGE ECZEMA
AHAs, like sugar-cane-derived glycolic acid, are all the rage in skincare. Here's why: they help your skin retain moisture while gently exfoliating dry skin to leave your complexion calmer and brighter. It's all in the science; glycolic acid is proven to restore even skin tone thanks to its ability to slough off dead skin cells. Plus, glycolic acid is made up of hydrophilic cells that love water, helping plump and hydrate your skin–a vital part of caring for eczema-prone skin.
If you've heard of AHAs before, you're probably wondering why glycolic acid is the best of all the AHAs. Glycolic acid has the smallest molecules, allowing it to be absorbed into your skin quickly and efficiently. In other words? It's the most effective AHA on the market.
Key Takeaway: Glycolic acid is an AHA that helps eczematous skin retain moisture while helping shed dead and dry skin cells.
4. KEY VITAMINS NEEDED IN SCIENCE-BACKED SKINCARE FOR ECZEMA
VITAMIN A
A natural eczema cream should contain the skin-healing superpower known as Vitamin A. Not only can Vitamin A help heal any scratches and scrapes you have sustained during a particularly itchy eczema flare-up, but it can also help boost collagen to restore the health of your skin.
To be more specific: Vitamin A contains retinoids that are famous for boosting skin health in numerous ways. This skin-loving vitamin can increase your skin's collagen production, improve your skin tone, and hasten the wound healing that's common after scratching during an eczema flare-up. Best of all, it also promotes blood flow and exfoliates, helping your skin look more plump and firm. 
Key Takeaway: Vitamin A helps your skin heal during and after an eczema flare-up, even if you've been scratching like crazy.
VITAMIN B3 (NIACINAMIDE) 
Vitamin B acts as your skin's defense system. When you have eczema or atopic dermatitis, the building blocks of the skin can expand, causing the moisture to seep out, and contributing to dryness. You need something to help guard those building blocks so no harmful elements can get inside the gaps. Vitamin B can help. It nourishes your skin, while also boosting your defense against the elements. Vitamin B also helps reduce inflammation and water loss, along with fighting redness and dryness associated with eczema.
Key Takeaway: Vitamin B protects vulnerable eczematous skin against the elements like dry air and hard water.
VITAMIN C
Vitamin C appears in skincare everywhere as a natural antioxidant that can supercharge your skin's health. The main advantages of using Vitamin C in your skincare when you're battling with eczema are: Vitamin C boosts collagen production that's responsible to fight the signs of aging, plus rebuilds and repairs irritated, damaged skin. Vitamin C calms inflammation and redness associated with eczema. Vitamin C helps your skin retain moisture, a key factor in fighting dryness and irritation associated with eczema.
Key Takeaway: Vitamin C works on your skin the same way it works on your internal health–it makes skin healthier as it helps skin cells rebuild and repair.
5. ESSENTIAL OILS FOR SOOTHING RELIEF IN NON-STEROID CREAM FOR ECZEMA
JOJOBA OIL
Jojoba oil is extremely gentle on sensitive, irritated skin. It's perfect for calming and nourishing eczematous skin. This highly soothing oil has been used in skincare for centuries by the indigenous peoples thanks to its ability to calm and heal your skin, without clogging your pores. Nourishing and soothing without making you break out? Perfect! Jojoba oil is a must-have in eczema and atopic dermatitis skincare.
Key Takeaway: Jojoba Oil adds nourishing moisture to eczema-prone skin, simultaneously soothing your skin thanks to its calming properties.  
VITAMIN E OIL
Vitamin E oil is a strong antioxidant that boosts hydration and helps with skin healing. Deeply nourishing, it works deep down in the skin's layers to moisturize dry, inflamed skin associated with eczema and atopic dermatitis. Vitamin E is also a natural antioxidant that aids in skin repair.
Key Takeaway: Vitamin E oil helps heal your skin during and after an eczema-flare up, thanks to its powerful antioxidants.
6. HONEYSUCKLE BOTANICALS AS CALMING ECZEMA SKINCARE INGREDIENTS
lonicera japonica flowers and caprifolium flowers are two types of Honeysuckle that contain flavonoids to help calm inflamed, irritated skin. Plus, the naturally occurring antioxidants inside these flowers boost the overall health of your skin.
These special flowers also contain a skin-soothing polyphenol called chlorogenic acid, the main bioactive ingredient found in unique botanicals.
Key Takeaway: Botanicals like Japanese Honeysuckle contain useful ingredients that soothe red, inflamed skin, naturally.
HOW TO FIND ALL SIX INGREDIENT CATEGORIES IN ECZEMA PRODUCTS
If you're sick of lathering your skin with steroids, it's time to try something new. Look for the six key ingredients above in natural eczema or atopic dermatitis cream, and you'll be surprised by the results. The top example is ARCTIVA Eczema Cream .
From the powerful HYDROSURF™ glycolipid technology and colloidal oatmeal to key vitamins and essential oils, the ARCTIVA non-steroid cream for eczema has remarkable effects. It helps your skin stay hydrated, calms the itch and provides the relief you need to feel confident in your skin.