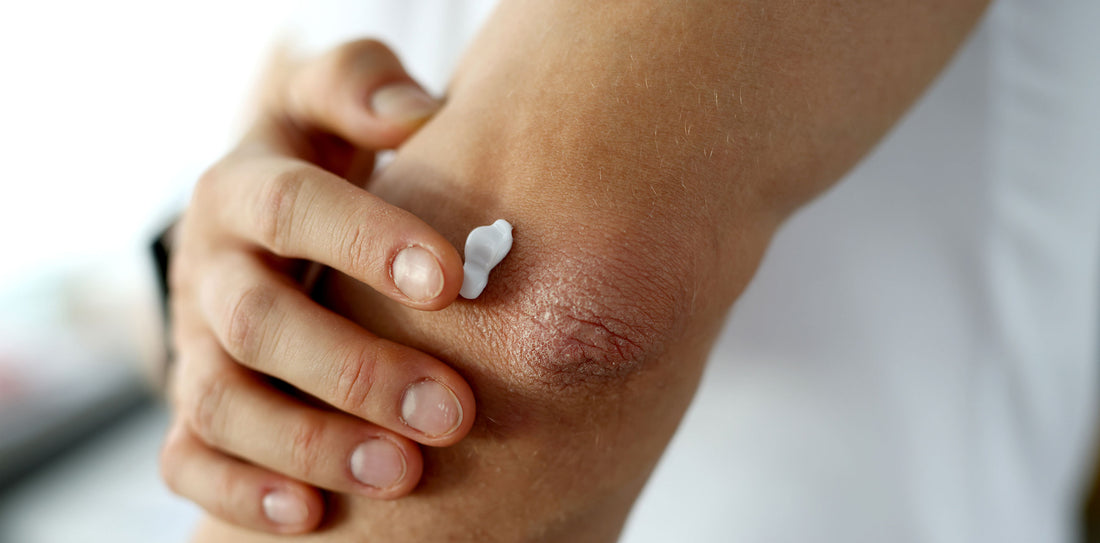 The New Must-Have Ingredient You Need in Eczema and Psoriasis Cream
Discover how breakthrough

HYDROSURF™

glycolipid technology is transforming the lives of eczema, dermatitis and psoriasis sufferers
The best solution to eczema, dermatitis and psoriasis skin challenges is now within your reach thanks to breakthrough formulations recently launched by new skincare brand ARCTIVA™.
The clean-label products are enhanced with a powerful new ingredient: HYDROSURF™ glycolipid technology. This fermented ingredient blend is combined with leading FDA-approved actives, key vitamins, botanicals and essential oils for deep relief.
Unlike many creams that sit on the surface, ARCTIVA enhanced with HYDROSURF permeates the layers of your skin to work its magic. Discovered in nature and powered by science, ARCTIVA's HYDROSURF glycolipid technology works within the ARCTIVA formulas to deliver lasting relief to the source of irritations, leaving you with hydrated and healthier skin.
WHAT IS

HYDROSURF

?
ARCTIVA skincare for eczema, psoriasis and atopic dermatitis is enhanced with HYDROSURF, a powerful and proprietary glycolipid technology. Glycolipids are fermented ingredients produced through the natural process of fermentation from microorganisms and renewable raw materials, like sugar.
The microorganisms used in the HYDROSURF glycolipid technology were originally discovered in the depths of nature, including the glacial lakes of Antarctica. Formulation scientists at ARCTIVA have now perfected their use in skincare products.
These all-natural fermented ingredients have many unique and seriously impressive properties that make them the missing piece to help provide relief for various skin conditions, including psoriasis, eczema and other forms of dermatitis.
Why Are Glycolipids A Must-Have in Skincare Products?
Research shows glycolipids work better and are safer for your skin than chemical-based alternatives. This is especially important when you're managing a skin condition like eczema, psoriasis or atopic dermatitis. The naturally fermented ingredients have lower toxicity and less risk for any irritation as compared to other commonly used options.
How Does HYDROSURF Glycolipid Technology Work?
HYDROSURF glycolipid technology has an unmatched ability to help deliver water and beneficial ingredients to previously unreachable levels of the skin. HYDROSURF is found only in ARCTIVA skincare products and enhances the formulas in four key ways:
Boosting absorption to get the source of irritation

Improving hydration with better moisture retention

Improving exfoliation for better vitality

Helping the body respond to skin inflammation
HYDROSURF is a clean ingredient that works beyond the surface to hydrate, soothe and protect your skin at the source.
Sound good? Let's get into the science behind why HYDROSURF is a must-have in your daily skincare regime
HYDROSURF

 BOOSTS Skin ABSORPTION
HYDROSURF™ glycolipid technology works synergistically with other powerful skincare ingredients to help manage psoriasis eczema and forms of dermatitis by boosting your skin's ability to absorb products and respond to irritations that cause flares.
For example: colloidal oatmeal is a key active ingredient found in many medical-grade skincare products for eczema and atopic dermatitis. Colloidal oatmeal helps restore your skin's natural barrier, while also reducing inflammation. Now, imagine being able to get the maximum effect from colloidal oatmeal just by using HYDROSURF. That's how it works. HYDROSURF essentially primes your skin, helping create the perfect canvas for skincare ingredients to absorb and work.  
How does HYDROSURF boost absorption?
It's all about size. The glycolipids in HYDROSURF have a smaller micelle size than many other skincare ingredients. This helps them reach deeper into pores where other ingredients can't fit. That means they can work their magic deep down in your skin rather than just sitting on the surface.
BONUS: You want your daily moisturizer to feel great on your skin, and HYDROSURF doesn't disappoint. Thanks to its water-loving properties, HYDROSURF creates an emulsifying effect on your skin, leaving it silky, smooth and soft.
2.

 

HYDROSURF

 IMPROVES SKIN HYDRATION
You know that keeping your skin hydrated is a constant struggle when you have eczema, psoriasis or any form of dermatitis. This daily battle with severely dry and flaky skin is due to the fact you lose water through the surface of your skin, as your skin's natural protective barrier is leakier than someone without a skin condition.
Here's where HYDROSURF glycolipid technology can help. It has profound moisturizing capabilities. It helps the body strengthen its natural protective skin barrier through increased hydration and reduction of water loss from the skin.
To be less scientific: HYDROSURF boost's your skin's natural defenses, locking in moisture and preventing it from leaking out. This helps combat the dreaded dryness and flaking you live with if you suffer from atopic dermatitis, eczema or psoriasis.
Once HYDROSURF absorbs, it boosts your skin's moisture retention, helping water move within. This means patches of dryness from eczema, psoriasis and atopic dermatitis can be targeted as the moisture is enhanced. Plus, more hydrated areas can share their moisture with dry spots.
HYDROSURF

 Stimulates Your Skin's Exfoliation Abilities
Leaving a cloud of flaky skin after you take off a sweater is embarrassing, but a common scenario for skin condition sufferers. By using an ingredient like HYDROSURF that helps enhance your skin's natural exfoliation abilities, you can help shed that dry, flaky skin before it builds up. This is thanks to HYDROSURF's keratolytic properties. The glycolipids in HYDROSURF produce a cytotoxic effect on skin cells (keratinocytes). This makes the ingredient great at removing damaged keratinocytes from your outer skin layer.
In other words? HYDROSURF helps soften and remove the scale and dryness associated with skin conditions like eczema, dermatitis and psoriasis. This means no more clouds of dry skin on the floor when you get dressed!
HYDROSURF

 Helps Your Skin Respond to Irritation and Inflammation
Redness and irritation are a hallmark of psoriasis, eczema and atopic dermatitis. HYDROSURF supports your body's ability to respond to inflammation. To get technical, that means its unique blend of fermented ingredients helps your body reduce its inflammatory response. When you're in the midst of an eczema flare-up and you're tearing at your skin, all you want is for your skin to feel calm. By supporting your body's own abilities to fight inflammation, HYDROSURF glycolipid technology is your body's secret against irritation.
If you suffer from a skin condition and you're looking for a non-steroid cream that works, you need a product with HYDROSURF glycolipid technology. This top new skincare ingredient is changing the lives of eczema, psoriasis and dermatitis sufferers thanks to its powerful abilities.
Don't waste your money on products that sit on top of your skin, choose ARCTIVA skincare products that provide relief beyond the surface. They are the only skincare products that contain HYDROSURF, and can make a huge and lasting difference to your skin and your confidence.