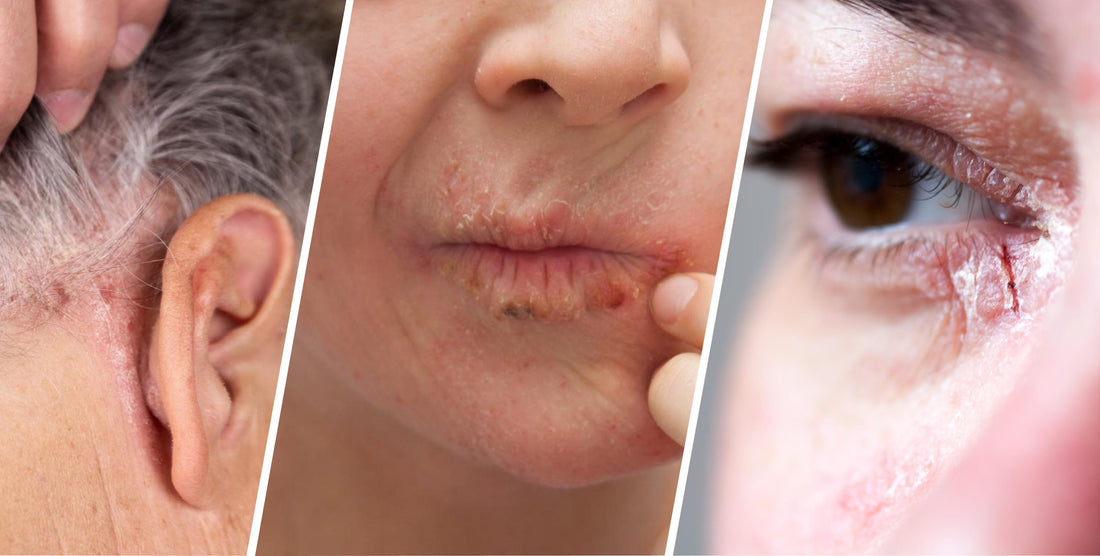 Face Psoriasis on Lips, Eyes and Scalp: What to Know
Dealing with psoriasis on your face, especially psoriasis on nose areas and eyelid psoriasis is more common than most people think. Not only does the itch drive you crazy, but with irritated, red patches in such a visible place it can sap your confidence. Here's everything you need to know about facial psoriasis plus some handy hints on what you can do to help ease your symptoms and achieve psoriasis itch relief. 
How common are eyelid psoriasis and psoriasis of the face?
Did you know that a whopping 50% of people with psoriasis experience psoriasis on their face? So if you're one of the 7.5 million Americans with psoriasis, you have probably experienced psoriasis in one of these areas:
Psoriasis on eyelid areas

Psoriasis on nose areas, and on the skin between your nose and upper lip

Psoriasis on lips 

Psoriasis in ears 

Psoriasis on your upper forehead, hairline, and scalp (45-67% of people with psoriasis experience psoriasis on their scalps)
Facial psoriasis is very common in people with psoriasis. However, it can also be more challenging to treat and lead to longer flare-up durations than psoriasis in other areas.
Eyelid psoriasis 
Eyelid psoriasis presents unique challenges because, well, it's around your eyes. You may encounter discomfort, itchiness and redness on the eyelids. This can worsen any stress you have about your areas of itch. 
Symptoms of eyelid psoriasis can include:
Skin irritation, swelling, itching and soreness
Trouble blinking and difficulty opening and closing your eyes
Thick skin scales sticking to your eyelashes
Discolored skin and scaling around your eyes
Dry and cracked skin that can even bleed
Psoriasis on nose areas
The skin on the side of your nose and between your top lip and nose is thinner and more sensitive than other areas of your face. So, this makes it a prime area for psoriasis to show up. Unfortunately, since your nose is in the centre of your face, psoriasis on nose areas can be distressing as it's very obvious. Interestingly though, psoriasis on nose areas doesn't look the same on everyone. It can change in appearance depending on your skin tone. 
Psoriasis on the face and nose areas can look different depending on your skin type. If you have fair skin, your patches of psoriasis may appear red or silvery. But, if you have dark skin, your psoriasis is more likely to appear dark brown. This discoloration can make anyone with psoriasis on their nose very self-conscious. 
Psoriasis on lips
Managing psoriasis on your lips can be difficult and frustrating. The constant
discomfort and pain can hinder simple tasks like eating, speaking, or even smiling, affecting your confidence and emotional well-being. 
Psoriasis on your lips can look slightly different to psoriasis on other areas of your face. It may appear as a red, flaky rash on fair skin. And, if you have darker skin it can look more purple. Unsurprisingly, what you eat can hugely affect the level of irritation of psoriasis on lips. For example, it's important to avoid spicy foods during a flare-up.
Psoriasis in ears
Itchy psoriasis in your ears can drive you crazy. The irritation can be uncomfortable, especially when lying on your side at night. Worst of all, large flakes and scales can even cause obstruction of your ear canal, reducing your hearing. 
Psoriasis in ears and around ears is often characterised by these symptoms:
Firstly, dry, flaky skin can build up both on and behind the ear.

Secondly, red, scaly patches may show up in your ear canal

Third, You might experience itching and burning sensations in and around your ear

Itchiness often accompanies irritation

Hearing loss can accompany the above symptoms
So, because your ears are so important for your senses, it's always best to seek help from your doctor if you're experiencing any hearing loss. 
Scalp psoriasis is very common
Did you know: Scalp psoriasis is one of the most common forms of psoriasis on the face and head region. Scalp psoriasis can be difficult to diagnose as it's often mistaken for other disorders of the scalp, especially seborrheic dermatitis. And, Scalp psoriasis usually shows up as asymmetrical and sharply demarcated scales. These scales are usually around the hairline and are silvery-white in color.
If you suffer from psoriasis on your face in any of these areas, you're probably frustrated and sick of looking for solutions. Thankfully, there are new steroid-free and dermatologist-approved options that are safer and more gentle than traditional psoriasis treatments. 
Best psoriasis cream to manage face psoriasis
Firstly, psoriasis on your face is a difficult area to manage because you need to be careful what products you use, especially near your eyes. And, Many people with psoriasis on their eyelids, scalp or face are reluctant to use cortisone. That's where a steroid-free psoriasis cream like ARCTIVA Psoriasis Cream can come in handy. 
If you suffer from psoriasis on your face, now is the time to try ARCTIVA Psoriasis Cream, enhanced with HYDROSURF™ glycolipid technology. The steroid-free psoriasis treatment features all clean ingredients with medical-grade performance that gets to the source of skin irritation. Best of all, it's incredibly gentle, vegan and cruelty-free with no fragrances, parabens, sulfates, phthalates or other irritating ingredients. 
Key ingredients for face psoriasis cream 
If you have face psoriasis on your lips, eyes, nose or scalp, you'll want to use highly effective yet gentle ingredients. Two top options are:  
Firstly: Salicylic acid:

Salicylic aci

d is an FDA-approved exfoliant that helps calm the itching and redness associated with psoriasis, while also reducing flaking and scaling. ARCTIVA Psoriasis Cream contains 2% salicylic acid as an active ingredient. 
Successful treatment of face psoriasis 
So, if you have psoriasis on your face, you're not alone. With 50% of people with psoriasis suffering from face psoriasis, it's a common yet frustrating aspect of managing this skin condition. Firstly, Look for a steroid-free psoriasis cream that's safe to apply to the delicate skin of your face. Secondly, it's also important to find a product with successful results on face psoriasis. 
ARCTIVA Psoriasis Cream works quickly and has proven success in third-party consumer studies. In a recent consumer study of psoriasis sufferers:
Firstly, 92% of users experienced calmer, more moisturized skin within 60 days of regular use

Secondly, 81% of users had less flakes and sloughing

89% experienced less itching after just two weeks
Best of all, the results of the ARCTIVA Psoriasis Cream compound over time. That's why the improvement in hydration increases to a whopping 92% after 60 days of regular use. Even better, this new psoriasis cream is dermatologist-approved and has the National Psoriasis Foundation Seal of Recognition, so you know it works and is safe for you and your family.
It's time to find relief across your face and scalp with ARCTIVA Psoriasis Cream. So, not only will it leave your psoriasis-prone face feeling soothed and soft, it will diminish the itch and redness that can make you so self conscious when you have face psoriasis.