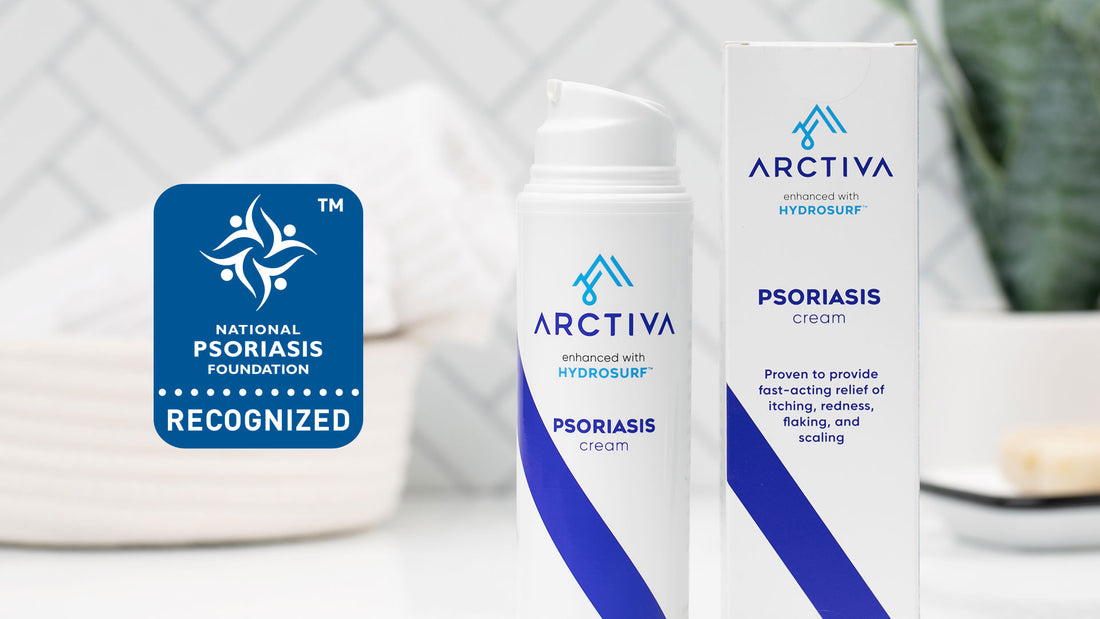 National Psoriasis Foundation® Recognizes Steroid-Free ARCTIVA™ Cream with Seal of Recognition
Over-the-counter psoriasis cream has a 92% success rate using clean-label ingredients and revolutionary

HYDROSURF

™

glycolipid

technology
SOLON, Ohio (September 7, 2023) – Steroid-free ARCTIVA™ Psoriasis Cream has achieved the coveted National Psoriasis Foundation®(NPF) Seal of Recognition. The Seal of Recognition is reserved for over-the-counter products that have demonstrated outstanding efficacy in aiding the management of psoriasis symptoms and have also successfully cleared rigorous safety evaluations. This recognition establishes ARCTIVA's medical-grade cream as one of the leading psoriasis products, and a beacon of hope for those suffering from the skin condition. 
Psoriasis affects over 8 million Americans with limited solutions that truly ease discomfort. ARCTIVA Psoriasis Cream rises to this challenge with its HYDROSURF™ glycolipid technology, a blend of fermented ingredients with origins in Antarctica, 2% salicylic acid as an active ingredient to reduce flaking and scaling, plus vital vitamins like niacinamide, essential oils and botanicals. The clean-label formulation provides soothing relief while addressing the root causes of psoriasis symptoms with a proven 92% success rate. 
"The National Psoriasis Foundation Seal of Recognition serves as a symbol of trust and excellence, guiding consumers towards products that prioritize both efficacy and safety," affirmed Vic Peroni, chief executive officer of ARCTIVA Wellness. "ARCTIVA Psoriasis Cream's rigorous testing and exceptional performance align perfectly with the standards set by this prestigious seal." 
To earn the Seal, scientific data and test results were provided showing that ARCTIVA Psoriasis Cream is non-toxic and safely aids in the management of psoriasis. The cream passed an independent review by a panel of board-certified dermatologists and rheumatologists.  
The ARCTIVA team prides themselves on crafting cruelty-free, high-quality formulations featuring vegan-friendly ingredients. They are free from fragrances, parabens, phthalates, sulfates and steroids. All products are manufactured in the United States. ARCTIVA Psoriasis Cream is available for purchase online at arctivaskin.com, Amazon and Walmart.com with a 60-day money-back guarantee. 
 ### 
About ARCITVA™ Wellness 
ARCTIVA Wellness is a science-driven skincare company that develops transformative products for people suffering from life-altering skin conditions, starting with eczema and psoriasis. Our team of experts is dedicated to researching and developing innovative skin technologies, such as our proprietary HYRDOSURF™ blend of fermented ingredients, with origins in the glacial lakes of Antarctica. At Arctiva Wellness, we formulate long-lasting solutions, not short-lived relief. To stay up to date on product developments, news and announcements, visit arctivaskin.com.