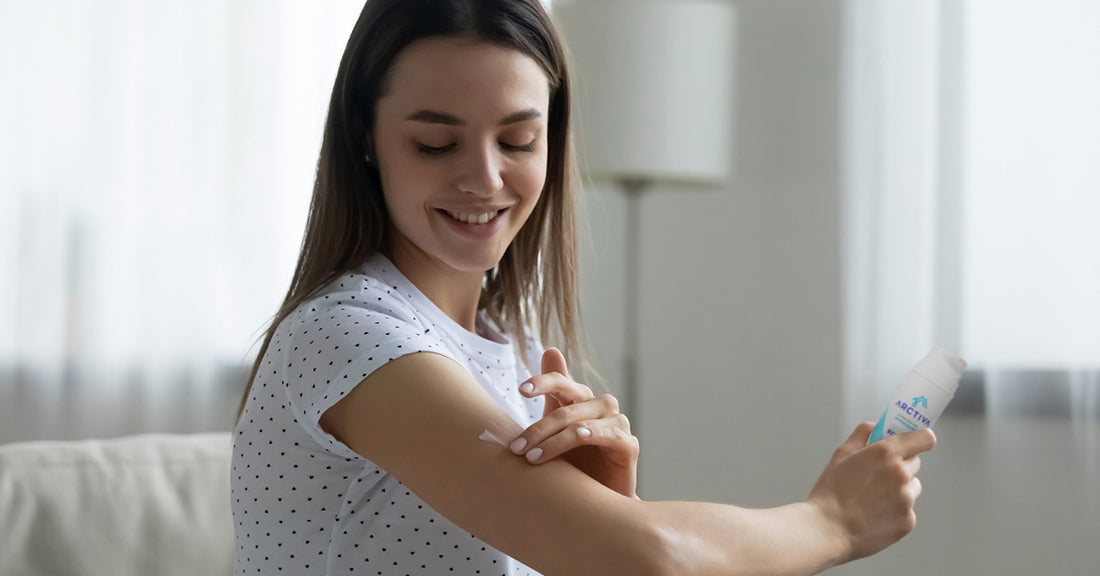 Eczema Study Reveals Shocking Results with Steroid-free ARCTIVA Cream
If you're an eczema sufferer, you're probably tired of using creams and lotions that don't work. But we have great news for you. A third-party consumer study of a new steroid-free cream produced outstanding results for real eczema sufferers.
It's called ARCTIVA Eczema Cream, and 91% of consumers in the study saw relief. Free from phthalates, sulfates, parabens, and fragrances, this steroid-free cream blends powerful, natural ingredients with the efficacy of medical-grade skincare. Most importantly, the participants in this study were truly impressed.
Let's get real; In a market overflowing with skincare products that sit on your skin's surface, we understand you may be skeptical of new products. But here's the truth: everyone included in the study was medically diagnosed with eczema, and a whopping 91% reported that the ARCTIVA Eczema Cream made their dry skin feel well-hydrated, calmer, healthier, and soothed. None of the participants knew the name or brand of the product they were trying.
"This cream is by far the best I have ever used and I have never seen improvement like this in the past with any other products."- Priscilla, 34
Only Real People with Real Eczema Were Included in This Study
Everyone included in the study had medically diagnosed eczema. To ensure the study was a true representation of how ARCTIVA Eczema Cream worked for real eczema sufferers, strict criteria were used.
The eczema panel criteria were:
Must regularly suffer from eczema, almost constantly or weekly
Must have a current eczema flare-up, many of which were moderate in severity
Must have been diagnosed with eczema by a medical professional
Must have typical eczema symptoms and desire the stated benefits of using this type of product
Must have dry or very dry skin
The age range of the participants was from 18-59.
The breakdown of people: 
18% were between 18-29 years old
39% were between 30-39
29.5% were between 40-49
13.5% were between 50-59
"I loved this product. It works so much better than steroid cream. It totally cleared my hands and feet." - Lindsay, 43
The Frequency of Use and the Results of this Eczema Consumer Study
The study coordinator instructed participants to use the ARCTIVA Eczema Cream twice daily–once in the morning and once at night. They needed to keep the affected area clean and dry, then apply the product and massage it into their skin until it was absorbed–a small amount at a time. They were also instructed not to use any other lotion or product on the affected area.
The ARCTIVA Eczema Cream worked in a big way. The more the participants used it, the more they saw improvements in their symptoms.
After just one day, 73% of the participants said their skin felt soothed.
In just one week, 75% of participants noticed fewer flakes of skin sloughing off of their eczema-affected areas.
After four weeks, 91% of participants reported that their skin felt calmer, healthier and less irritated.
Six Key Insights from the Eczema Cream Consumer Panel: What You Need to Know
This 28-day trial provided valuable insights into the needs of real eczema sufferers like you, and how a steroid-free, clean-label brand like ARCTIVA can help.
Lessons learned from analyzing the data include:
ARCTIVA Eczema Cream delivers the best results when applied twice daily
The longer you use the cream, the better results you'll experience
The product helps to reduce redness, flakiness, and itchiness caused by eczema - the main frustrations experienced by eczema sufferers
It's lightweight, non-sticky, and makes skin feel well-hydrated
It also has a calming effect on the skin and soothes skin irritation, making skin feel healthier and softer
A little goes a long way– it's best to rub small amounts in gently before adding more
If you suffer from eczema, you know how frustrating it can be to find a cream that works. This third-party consumer study has shown that ARCTIVA Eczema Cream is a game-changer. It's effective, safe, and easy to use. So why not try it and see how it can improve your skin's health and appearance?
Shop ARCTIVA Eczema Cream for Relief
Shop ARCTIVA Eczema Cream now to get relief just like the study participants.