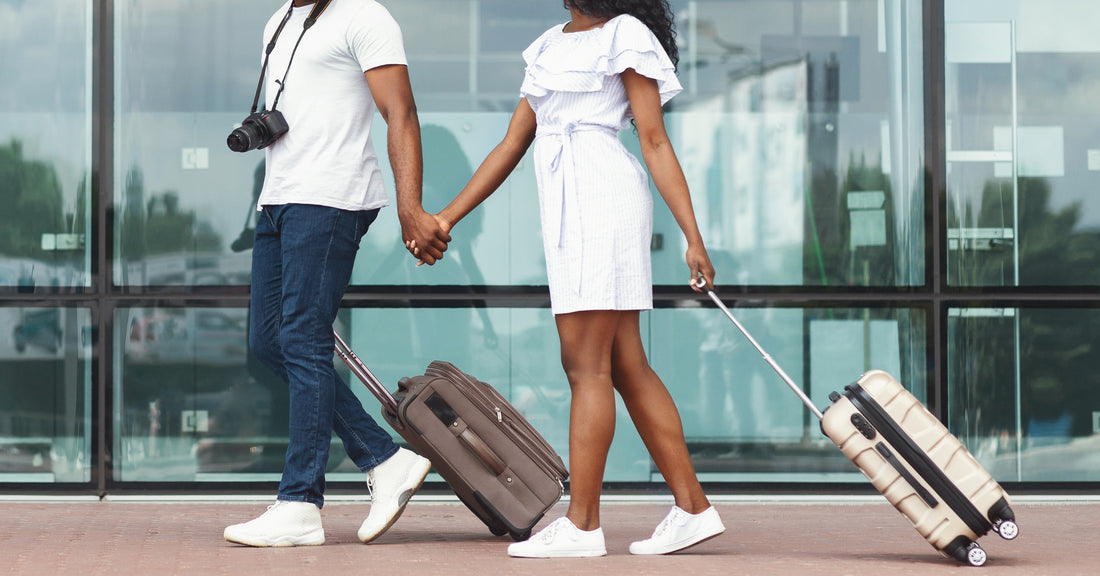 10 Tips for Traveling with Eczema or Psoriasis
Ever ask yourself 'Why is my eczema so bad when I travel'? Or 'Why does my psoriasis flare up when I'm on the road'? You're not alone. Vacations are full of exciting new experiences. However, the challenges of different climates, exotic foods and airport stress can all worsen your eczema, atopic dermatitis or psoriasis symptoms.
Luckily, traveling with a skin condition doesn't have to be stressful if you plan ahead. Here's everything you need to know about traveling with eczema or psoriasis to help you enjoy your vacation without the itch.
Packing Matters When You're Traveling With Eczema or Psoriasis
1. Pack a travel-sized bottle of eczema cream or psoriasis cream in your hand luggage
You know you can't live without your medical-grade eczema or psoriasis products, so don't risk losing them by packing them all in your checked luggage. Keep some of your trusty eczema or psoriasis moisturizers within arm's reach by carrying a travel-sized version in your hand luggage.If your luggage gets lost in transit, having enough cream will get you through the few days it will take to receive it. It also makes it easy to reach during travel.
Skincare brands like ARCTIVA offer travel-sized versions of their steroid-free eczema and psoriasis creams, making it easier than ever to get relief while on the go. They're perfect for throwing into handbags, backpacks, and even diaper bags and comply with TSA carriage rules.
2. Pack snacks to prevent surprise food-induced skin flares when traveling with eczema
Delayed flights and long transit times can leave you hungry. It's hard to plan ahead when you're traveling, especially internationally. Sometimes, certain foods worsen your eczema or psoriasis, so it's wise to keep snacks handy on the plane to prevent flare-ups. Make sure to check the biosecurity laws when traveling to different countries and follow all country-specific guidelines when bringing your own food.
3. Bring a damp washcloth in your hand luggage to help ease hand eczema or psoriasis
Want to enjoy that pack of chips in the airport, but the oil makes your hands itch? Don't miss out on tasty snacks by wiping your hands clean with a damp washcloth after eating.
Simply dampen the cloth ahead of time and store it in a Ziplock bag. Or if this is too difficult, bring the Ziplock bag and washcloth in your carry-on. You can dampen it at the nearest washroom when you need it. A damp cloth can also provide short-term cooling relief and deter you from itching along the journey.
Top Tip: Once you've wiped your hands, allow them to dry, then apply your medical-grade eczema cream or psoriasis cream from your hand luggage. Washing your hands won't help if you don't apply cream afterward. This is because those with eczema-prone skin have a weakened protective skin barrier. This leaky barrier doesn't retain moisture very well and allows bacteria to creep in.
Don't worry though: The best, most effective way to protect your skin is by using a natural eczema cream with powerful ingredients like HYDROSURF™.
4. Bring a light jacket or shirt to protect your skin from wind, sun and insects when traveling with eczema
Most people with eczema or psoriasis find that outdoor elements such as wind, sun, dry air and insects can irritate their skin. Sunscreen and insect repellents used to protect the skin from these elements can also cause a flare.
So don't forget to pack light layers and a light jacket or shirt. Soft-fitting, primarily cotton long pants and tops are recommended to protect from wind and UV rays and keep the bugs away.
If it's too hot, you can use a sarong to achieve the same effect. Once you cover up, you can enjoy the sunrise to sunset without feeling irritated and itchy!
5. Take double the amount of eczema or psoriasis cream you think you'll need
You will use more of your eczema or psoriasis cream on vacation than you use at home. When climates are different, you may be swimming and/or showering more often, which means more moisturizing.
Don't get caught out without your eczema or psoriasis cream that works. Pack two full-sized bottles in your checked luggage and ensure at least one of the bottles is full before you leave home.
Choose a skincare brand that contains a significant amount of product. You won't have to pack a million tiny bottles if you do. ARCTIVA Eczema Cream and ARCTIVA Psoriasis Cream both contain 4.5oz of product, which is more than most brands. ARCTIVA uses an airless pump to prevent product loss, ensuring you get every last drop out of the canister and won't run out while you're away. Its sleek container shape makes it easy to add to any checked luggage.
Not checking a bag? No worries. The steroid-free ARCTIVA skincare brand also offers travel-sized options that are perfect for your carry-on bag, so you'll never be without relief while you're away.
6. Include layers in your carry-on to avoid overheating when you're traveling with eczema
There's nothing worse than dressing for a freezing aircraft and then feeling suddenly stifling hot when you reach your destination. Heat and sweating worsen eczema and psoriasis symptoms. That is why packing light layers that can be easily added or taken off is important.
Packable jackets with breathable fabrics are a great way to stay warm if you're traveling across time zones and experiencing differing extremes in climates. They pack away easily and are lightweight, perfect for your carry-on. Cotton layers including thermals, wraps and cardigans can also be thrown on and easily packed away.
Top Tip: Avoid itchy fabrics like wool or clothing with sleeve detailing, as these can worsen contact eczema or psoriasis symptoms around your wrists and hands.
Preventing an Eczema or Psoriasis Flare-up On the Plane
7. Apply eczema- or psoriasis-specific cream after sanitizing
In today's world where constant hand sanitizing is the new normal, your skin isconstantly exposed to the dehydrating effects of sanitizer. This can worsen your eczema or psoriasis. It also puts your skin at risk of cracking, which takes longer to heal and exposes you to the risks of infection.
But! Hand sanitizer is a must after holding communal handrails and escalators in airports and transport stations. So once your hand sanitizer dries, apply a non-steroid cream for eczema or psoriasis. This is another important reason why you need moisturizer in your hand luggage. If it's close at hand, you're able to reach it straight after you've washed or sanitized your hands. It'll not only protect your skin and prevent flare ups, but it it will also help your hands feel softer.
8. Stay hydrated throughout the flight when you're traveling with eczema
Did you know the humidity on airplanes can be as low as 10-20%? Considering humidity on land is usually between 30-65%, 10% is incredibly dry. Couple this lack of humidity with the drying effect of air conditioning, and it's no surprise your skin feels like sandpaper after flying.
You know you need to re-applying your eczema- or psoriasis-specific creams from your hand luggage after eating and hand washing, but don't forget to drink lots of water too.
How much you should drink depends on your weight. Medical experts suggest drinking the equivalent of approximately half of your body (measured in pounds) in ounces of water. For example, a 200-pound man should drink around 100 ounces, or 12.5 cups, of water daily.
While the excitement of vacation may make you want to indulge in an alcoholic beverage, this can exacerbate dehydration. If you're going to celebrate with a cocktail, be sure to have one glass or water for every glass of alcohol.
Avoiding an Eczema or Psoriasis Flare-Up During Vacation
9. Don't be tempted by hotel soaps and washes if you're traveling with eczema
It can be tempting to try the highly perfumed toiletries in your hotel room, but don't. They're not designed for people with skin conditions and can cause a major flare-up of psoriasis, eczema or atopic dermatitis–especially if they contain strong fragrances.
Instead, stick with your trusted science-backed skincare that's jam-packed with clinically proven ingredients to provide relief for your eczema or psoriasis.
The best part of hotel toiletries is usually the fragrance, so if you really wish to try them out, squeeze some body lotion into the sink and run warm water to make a small bath. It will make the bathroom smell gorgeous while you have your shower. All without irritating your skin.
10. Rinse off immediately after chlorine or saltwater, and moisturize with eczema or psoriasis cream ASAP
Most communal pools are highly chlorinated, and chlorine has an immense and immediate drying effect on your skin. Saltwater from the ocean can also dry out and irritate your skin. Avoid worsening your eczema or psoriasis by having a freshwater shower as soon as possible after swimming in pools or the ocean.
And since your eczema or psoriasis cream is always with you in your luggage or handbag, apply it right away. This quick, effective skincare routine after swimming will make your holiday or vacation much more enjoyable so you don't dread the post-pool itch.
Traveling with eczema or psoriasis doesn't have to be tough if you plan ahead. It's all about packing more of your eczema and psoriasis cream than you think you'll need, and keeping it close at hand. ARCTIVA's eczema and psoriasis creams, enhanced with HYDROSURF™, are a breakthrough, clean-label skincare products that are great to have when traveling. They boast medical-grade performance that targets the source of skin irritation without steroids. These revolutionary skincare products are taking the world by storm with deeper-than-skin relief that can't be beaten. ARCTIVA Eczema Cream and ARCTIVA Psoriasis Cream are the perfect companions for your next vacation to keep your skin looking and feeling great.
Shop ARCTIVA for travel: