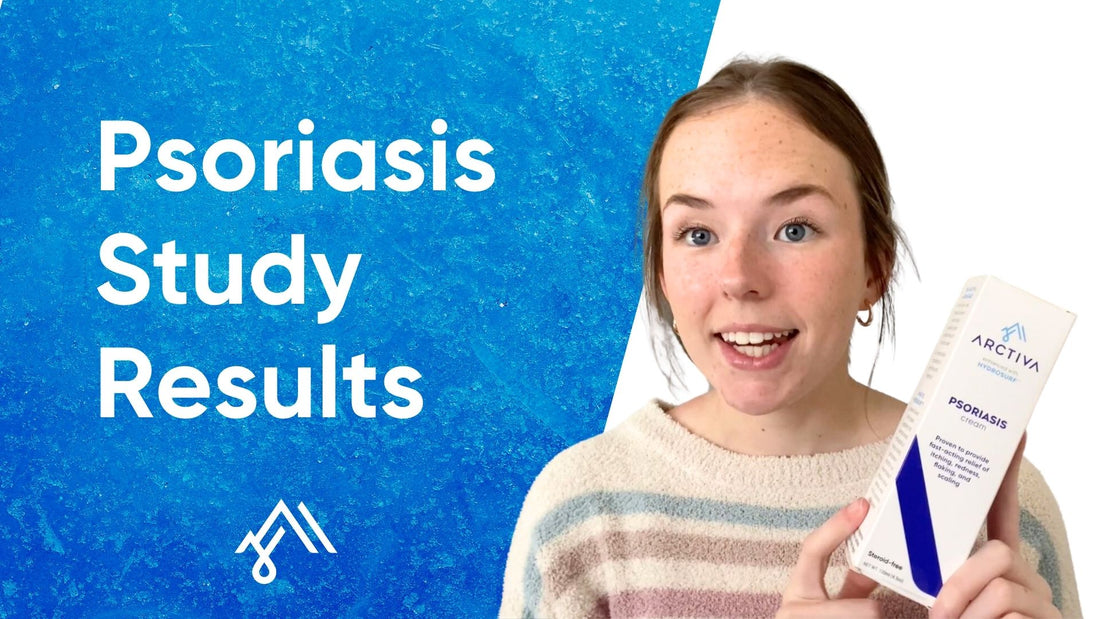 Unprecedented Psoriasis Results: 92% Success Rate with Steroid-Free ARCTIVA™ Cream
Consumer panel featuring ARCTIVA's Psoriasis cream unveils

92% of users experienced calmer, more moisturized skin within 60 days of consistent use

 

 

Eight out of 10 study participants noticed less flaky

, sloughing and itching within two weeks of applying the

Arctiva Psoriasis Cream to affected areas

 
ARCTIVA is the only product line on the market that features HYDROSURF™ glycolipid technology—a revolutionary blend of fermented ingredients discovered in Antarctica

 
SOLON, Ohio (June 8, 2023) – ARCTIVA™ Psoriasis Cream is an innovative solution for psoriasis sufferers, according to a recent third-party consumer panel. The independent study, which produced 47 data points of compelling results over 60 days, showed that 92% of users experienced calmer, more moisturized skin and significantly reduced psoriasis symptoms using the proprietary cream.  
ARCTIVA Psoriasis Cream is a steroid-free, medicated formulation which features 2% salicylic acid as an FDA-approved active ingredient. It is the only psoriasis product enhanced with HYDROSURF™—a powerful blend of fermented ingredients that are ideal for products targeting dry skin conditions such as eczema, psoriasis and related conditions. The formula also features key vitamins, essential oils and botanicals. The unique blend of synergistic ingredients provides significant relief of itching, redness and flaking. Consistent use of the cream led to continued improvement of psoriasis symptoms throughout the study. 
"Our proprietary ARCTIVA Psoriasis Cream has been formulated to provide deep relief and hydration to those suffering from psoriasis," said Vic Peroni, chief operating officer of ARCTIVA Wellness. "Because our cream is enriched with essential ingredients such as salicylic acid, HYDROSURF, Vitamin A, Vitamin B3 and Jojoba oil, to name a few, users experience calmer, more moisturized skin and reduced psoriasis symptoms using ARCTIVA." 
The ARCTIVA™ Psoriasis Cream study revealed that users experienced significant improvements based on the following results: 
After just one day, 89% of participants said they experienced soothed skin

 

Within two weeks, 81% of users had less flakes and sloughing, while 89% experienced less itching 

 

Within 60 days, 92% of study participants experienced calmer, more moisturized skin 

 
"The study's compelling results demonstrate that we have succeeded in developing an effective, steroid-free psoriasis solution to alleviate the pain and irritation caused by this condition," said Peroni. 
ARCTIVA Psoriasis Cream is manufactured in the U.S., adhering to FDA regulations and cGMP standards. To demonstrate the brand's trust in the effectiveness of the product, it comes with a 60-day money-back guarantee. This innovative cream can be conveniently purchased online at arctivaskin.com and on Amazon. 
About ARCTIVA™ Wellness  
ARCTIVA™ Wellness is a science-driven skincare company that develops transformative products for people suffering from life-altering skin conditions, starting with eczema and psoriasis. Our team of experts is dedicated to researching and developing innovative skin technologies, such as our proprietary HYRDOSURF™ blend of fermented ingredients, with origins in the glacial lakes of Antarctica. As a result, we formulate long-lasting solutions, not short-lived results. To stay up to date, visit arctivaskin.com.