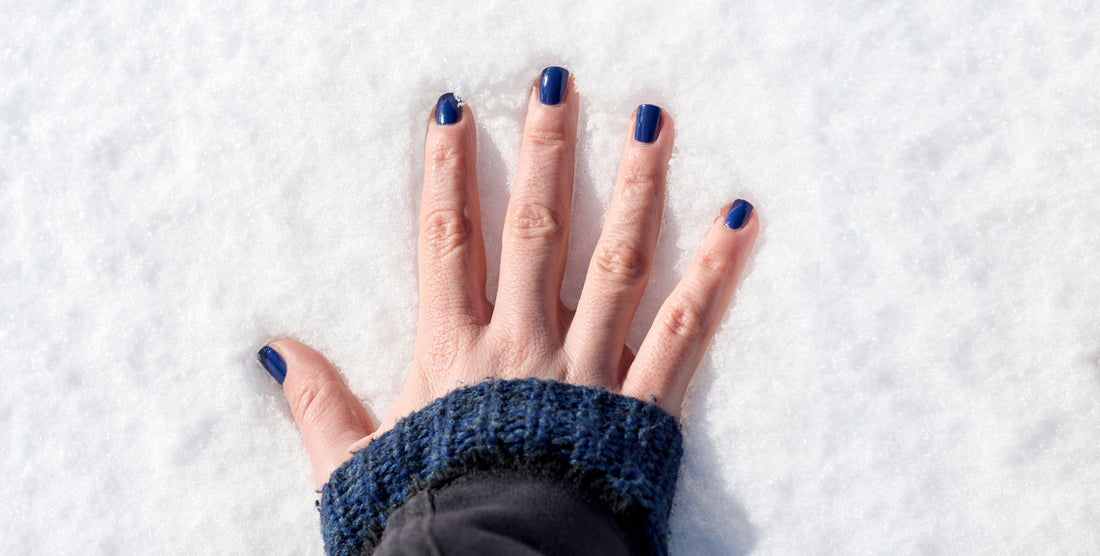 5 Tips to Combat Your Winter Eczema
Winter eczema and atopic dermatitis can mean more regular flares, itching and dryness. The changes in temperature indoors and outdoors, the dryness of indoor heating and even shower habits can all contribute to your eczema feeling worse. Luckily there are a few things you can do to make your winter eczema or atopic dermatitis more manageable.
Why is winter eczema worse than summer?
There are a few key reasons why your eczema and atopic dermatitis are worse in winter than in summer. 
Indoor heating dries out your skin, worsening the dryness of eczema-prone skin

Hot showers and baths leave your skin dryer than a tepid shower, worsening eczema and atopic dermatitis

Wooly clothes can irritate your skin, worsening the itch of eczema 

Icy wind can leave skin dry and cracked, worsening the symptoms of eczema and atopic dermatitis.
Why winter eczema prevention is important
When you have eczema, your skin contains fewer fats and oils than someone without eczema or atopic dermatitis. This makes your skin more susceptible to bacteria and irritants penetrating your skin's protective layers, leading to infections. Since colder months worsen your symptoms, it's important to make changes to keep your skin as healthy as possible. By changing a few habits, you can help restore your skin's protective abilities.
How to combat winter eczema
1. Choose the Right Eczema-Specific Cream with Potent Ingredients That Work
A medical-grade non-steroid cream for eczema and atopic dermatitis can transform your skin this winter. With so many moisturizers on the market, it can be hard to choose the right one. Instead of feeling overwhelmed, choose a cream that works by looking for these vital ingredients:
Colloidal Oatmeal: This ingredient helps to restore your skin's natural barrier, weakened from eczema, while also reducing inflammation that occurs more in winter.

Glycolic Acid: This is an AHA (Alpha-hydroxy acid) that helps eczema-prone skin to retain moisture while also helping shed dead and dry skin cells that are often worse in winter.

Vitamin A: This vitamin helps your skin heal throughout an eczema flare-up, even if the flare-up is extreme.

Vitamin B: This essential vitamin protects vulnerable, eczema and atopic dermatitis-prone skin against environments with dry air and hard water, which are especially irritating in winter.

Vitamin C: This works on your skin the same way it works on your internal health–it makes skin healthier as it helps skin cells rebuild and repair.

Glycolipid technology such as HYDROSURF™: Found only in ARCTIVA eczema products, HYDROSURF™ improves moisture retention, water mobility, absorption and exfoliation; all key to boosting the health of your winter skin. Best of all, ARCTIVA's HYDROSURF™ glycolipid ingredients deliver rapid relief to the source of irritations, leaving you with hydrated and healthier skin in winter.
BONUS: All of these ingredients have properties of anti-aging!
High quality natural eczema creams with the ingredients above require regular use in winter. Use slightly more than you would in summer, as winter dryness calls for extra moisturizer. 
Top Tip: Carry a second tube or eczema cream with you when you're out and about so you can moisturize on the go. There's nothing worse than feeling the sting of an eczema rash on your hands with nothing to ease it. Instead, moisturize more and often, especially after washing your hands. 
2. Avoid Very Hot Showers and Baths
Hot showers and baths suck the oil and thereby moisture from your skin, leaving it dry and prone to itching and cracking when you have eczema and atopic dermatitis. While winter seems like the perfect time to crank up the heat of your shower after a chilly walk home, it's a bad idea if you struggle with eczema. Instead, try these winter eczema and atopic dermatitis bathing tips:
Keep the temperature at 'gently warm' and heat the bathroom so you don't get too chilly when you get out.

Keep baths to just 5-10 minutes. 

Use a moisture-rich, soap-free body wash and avoid all soap-based and perfumed products as they can be irritating.

Add a sensitive bath and shower oil to your shower routine for an additional layer of skin protection.

Avoid any skincare products containing alcohol as they dry out your skin.

Always moisturize when you get out of the shower.
3. Choose Soft Fabrics for Winter Bedding and Clothing
Anyone with eczema knows the feeling of sliding into bed on a cold winter's day and feeling the scratchy sensation of your eczema on flannel sheets. No thanks! Instead, choose soft, breathable bed linens that don't catch any areas of dry skin, helping avoid irritation. Cotton is usually best with a moderate to high thread count for extra softness. 
Many eczema sufferers are also allergic to feathers and down, so forget the duck down duvet and opt for a synthetic duvet. 
Lastly, consider your clothing. Choose clothing that feels soft on your skin, and opt for layers that can be added or removed to avoid overheating and drying out your skin. While wool is very warm, look for extra soft wool outerwear or wool and synthetic-blended options to prevent the wool from feeling scratchy on your skin. If you are wearing a woolen coat, opt for cotton layers underneath.
Top fabric tips to combat winter eczema and atopic dermatitis
Choose cotton sheets and synthetic-filled duvets.

Wear soft gloves to prevent coat sleeves and dry air from irritating sore, itchy hands.

Wear layers to help keep skin cool.

Wash bedding and clothing with an ultra-sensitive laundry liquid or powder.

Avoid using fabric softeners, especially fragranced versions.
4. Humidify Dry Air
An at-home humidifier can make all the difference to eczema-prone skin in winter. Indoor heating whether you use an electric heater or a fireplace leaves skin dryer and more prone to itching and cracking. Humidifiers help combat the dryness in the air, letting your skin retain some of the moisture you've added from your regular moisturizing.
How to use a humidifier for winter eczema and atopic dermatitis
Set the humidifier to 45-55%. 

Use distilled water in the humidifier. Boiling tap water and letting it cool is a good option.

Clean the humidifier every few days. 
Another handy tip for keeping your skin more hydrated at home: When you're really chilly, wrap yourself in a blanket rather than sitting in front of a fire or heater. This helps prevent your skin from losing high levels of moisture in a short space of time. 
5. Take Off Wet Clothing and Accessories ASAP 
Gloves, hats and coat sleeves can get wet and soggy from rain showers and snow, causing your skin underneath to get red and irritated. This can be even more serious if your skin is cracked and becomes damp, which makes it more vulnerable to bacterial and fungal infections. Eczema-prone skin is already more susceptible to infection due to the breach in your skin's barrier, so it's important to make every effort to keep your skin clean.
Tips for Managing Stress-Related Eczema on Hands This Winter
Your hands are particularly prone to eczema flares and patches of atopic dermatitis in winter. And if you live with these skin conditions, you know the pain that cracked hands can cause. Not only are they painful, but they also make activities of daily life like washing dishes and driving sore and uncomfortable. Here are a few handy tips to help protect your hands this winter:
Wear cotton-lined gloves and keep a spare pair in your car in case your others get wet.

Moisturize with eczema-specific cream after every hand wash.

Add an emollient cream or ointment on top of moisturizer on very cold days.
Winter eczema and atopic dermatitis can be hard to manage, but with the simple changes above combined with a revolutionary cream like ARCTIVA™ Eczema Cream, you can feel more confident in your skin this winter season.