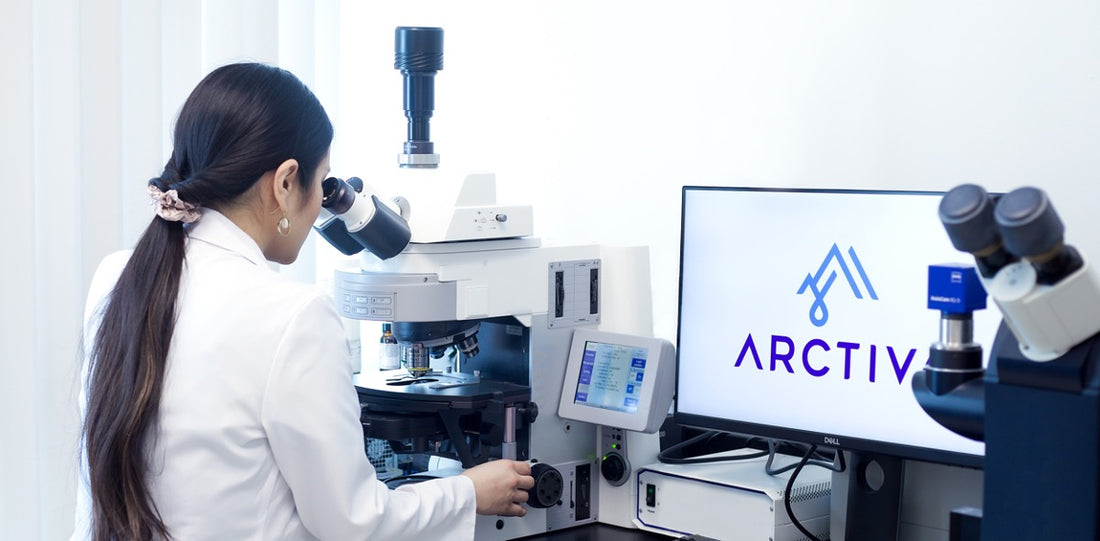 New ARCTIVA™ Steroid-Free Skincare Revolutionizes Eczema and Psoriasis Market
The clean-label, steroid-free eczema and psoriasis products are the first to utilize exclusive glycolipid technology  
ARCTIVA™ is a newly launched line of over-the-counter, steroid-free skincare products scientifically and responsibly formulated to be highly effective at treating skin conditions such as eczema and psoriasis  

The transformative skincare line combines breakthrough science and natural, cruelty-free ingredients with clinically proven, FDA-approved actives for proven results  
ARCTIVA is the only product line on the market that features HYDROSURF™ glycolipid technology—a revolutionary blend of fermented ingredients discovered in Antarctica with powerful skincare benefits 
SOLON, Ohio (April 3, 2023) – A new skincare brand has made a breakthrough in eczema and psoriasis treatment for the almost 40 million Americans suffering from ineffective solutions. ARCTIVA™ is a new line of clean, steroid-free skincare products that is the first to combine clinically proven active ingredients with proprietary HYDROSURF™ glycolipid technology and other natural, cruelty-free ingredients.   
ARCTIVA's active ingredients—colloidal oatmeal in the eczema cream and salicylic acid in the psoriasis cream—target symptom conditions such as itching, redness, flaking, irritation or scaling. The products also include beneficial vitamins, botanicals and essential oils to help soothe and hydrate skin. It is the only product line that features proprietary HYDROSURF glycolipid technology, a powerful blend of fermented ingredients with origins in Antarctica's glacial lakes. 
"With ARCTIVA's revolutionary formulas, consumers finally have highly effective, steroid-free treatment options for skin conditions such as eczema and psoriasis," said Vic Peroni, chief operating officer of Arctiva Wellness. "The use of clinically proven active ingredients with our proprietary HYDROSURF glycolipid technology and other key ingredients is a uniquely synergistic combination that's never been done before in formulations for these skin conditions."
ARCTIVA's clean formulations use the highest quality, vegan-friendly ingredients, along with no fragrances, parabens, phthalates or sulfates. The products are manufactured in the United States and available immediately. The initial launch includes an eczema cream and psoriasis cream which can be purchased on Amazon or arctivaskin.com.    
Consumers interested in trying ARCTIVA can take advantage of an introductory 20% off and a 60-day money-back guarantee. For more information about ARCTIVA or to purchase products, visit arctivaskin.com.   
###  
About Arctiva Wellness  
Arctiva Wellness is a science-driven skincare company that develops transformative products for people suffering from life-altering skin conditions, starting with eczema and psoriasis. Our team of experts is dedicated to researching and developing innovative skin technologies, such as our proprietary HYRDOSURF™ blend of fermented ingredients, with origins in the glacial lakes of Antarctica. At Arctiva Wellness, we formulate long-lasting solutions, not short-lived relief. To stay up to date on product developments, news and announcements, visit arctivaskin.com.